Questions about COVID-19?
We understand your need to know more about COVID-19. If you are on SKYRIZI (risankizumab-rzaa), please speak with your doctor regarding any questions you may have, including questions about the authorized COVID-19 vaccines.
To support you in your discussion with your doctor, further information about COVID-19 and vaccination may be found at the Centers for Disease Control site at coronavirus.gov
Has COVID-19 made paying for your medicine a challenge? AbbVie may be able to help. 1.866.SKYRIZI
Resources and personalized support

Answers to insurance and pharmacy questions
Information about the Skyrizi Complete Savings Card

Further assistance—call 1.866.SKYRIZI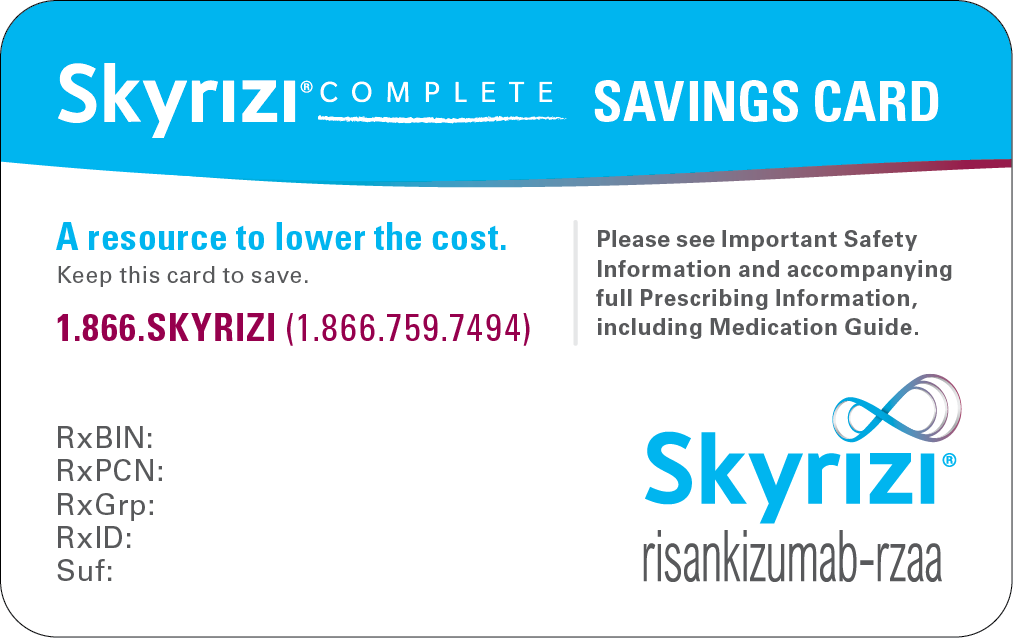 Savings on SKYRIZI are available
Eligible, commercially insured patients may pay as little as $5 per prescription.* No matter your financial or job status, there may be ways to lower the amount you pay for SKYRIZI.

Resources designed around you
Skyrizi Complete provides help with understanding insurance, ways to save, an app, plus much more. Always personal and always there, Skyrizi Complete gives you the support you deserve. To learn more, call 1.866.SKYRIZI
For more information about what AbbVie is doing to address the global COVID-19 crisis, please visit
*Terms and Conditions apply. This benefit covers SKYRIZI® (risankizumab-rzaa). Eligibility: Available to patients with commercial prescription insurance coverage for SKYRIZI who meet eligibility criteria. Co-pay assistance program is not available to patients receiving prescription reimbursement under any federal, state, or government-funded insurance programs (for example, Medicare [including Part D], Medicare Advantage, Medigap, Medicaid, TRICARE, Department of Defense, or Veterans Affairs programs) or where prohibited by law or by the patient's health insurance provider. If at any time a patient begins receiving prescription drug coverage under any such federal, state, or government-funded healthcare program, patient will no longer be able to use the Skyrizi Complete Savings Card and patient must call Skyrizi Complete at 1.866.SKYRIZI to stop participation. Patients residing in or receiving treatment in certain states may not be eligible. Patients may not seek reimbursement for value received from the Skyrizi Complete program from any third-party payers. Offer subject to change or discontinuance without notice. Restrictions, including monthly maximums, may apply. Patients who are members of insurance plans that claim to reduce or eliminate their patients' out of pocket co-pay, co-insurance, or deductible obligations for certain prescription drugs based upon the availability of, or patient's enrollment in, manufacturer sponsored co-pay assistance for such drugs (often termed "maximizer" programs) will have an annual maximum program benefit of $6,000.00 per calendar year. This assistance offer is not health insurance. To learn about AbbVie's privacy practices and your privacy choices, visit www.abbvie.com/privacy.html