What does Ira love about fashion? Outfits that show off her 100% clear skin.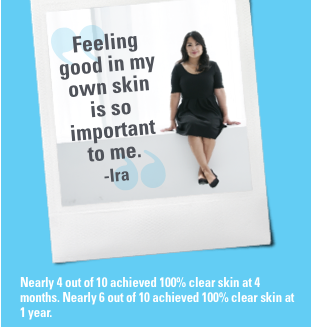 What does having clear skin really mean anyway? Well, for Ira, it goes more than skin deep. 
For Ira, "The hardest thing about having a skin condition like plaque psoriasis is that it's visible to everyone, and there's no way of hiding it."  
After trying other treatments—such as topicals and phototherapy—and switching dermatologists, Ira was prescribed SKYRIZI. "I didn't think that my skin could be 100% clear." 
Ira's results have been shared by others. In clinical trials, 3 out of 4 people achieved 90% clearer skin at 4 months. Nearly 4 out of 10 achieved 100% clear skin at 4 months and nearly 6 out of 10 achieved it at 1 year.