SKYRIZI MAY COST YOU AS
LITTLE AS $5* PER TREATMENT
Here to help you with savings for your
prescribed treatment plan
Skyrizi Complete can help you identify which savings options
may be available to you:
If you're eligible for the Skyrizi Complete Savings Card, you may pay
as little as $5 per treatment
If you have government insurance or are not insured, there may
be other options available to help you afford your treatment

Curious to learn more? Just call your Skyrizi Complete Nurse Ambassador† at 1.866.SKYRIZI (1.866.759.7494).
*For eligible, commercially insured patients only. See Terms and Conditions here.
†Nurse Ambassadors are provided by AbbVie and do not work under the direction of your health care professional (HCP) or give medical advice. They are trained to direct patients to their HCP for treatment-related advice, including further referrals.
One card for every step
of your treatment
If you have commercial insurance and are eligible,
the Skyrizi Complete Savings Mastercard®* can
help reduce your eligible, out-of-pocket treatment costs‡ not covered by your insurance.
‡Restrictions apply.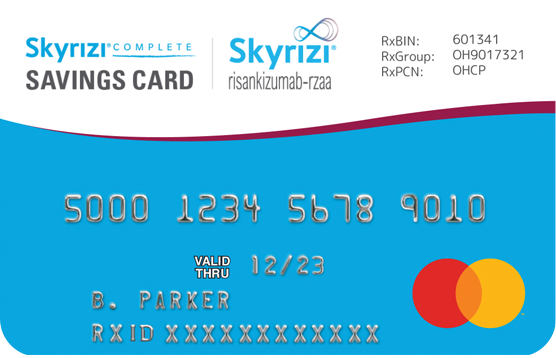 WHEN YOU RECEIVE YOUR CARD
If you're eligible for the Savings Card, it will be issued to you when you enroll in Skyrizi Complete. Be sure to keep your card in a safe place since you'll need it when scheduling your infusion appointments or when filling your SKYRIZI On-Body Injector prescription with your specialty pharmacy.

INFUSIONS
Your Savings Card can be used to cover eligible out-of-pocket costs wherever you receive your infusions, such as at your doctor's office or infusion center.

SKYRIZI ON-BODY INJECTOR (OBI)
When your specialty pharmacy asks for payment for your OBI, provide the information they request shown on your card.
Support when you need
Whenever you have a question about your Savings Card, remember your Nurse Ambassador is here to help, or they can connect you with an Insurance Specialist. Just call 1.866.SKYRIZI (1.866.759.7494).
Prescription rebates‡ may be an option
If your pharmacy is unable to process your Skyrizi Complete Savings Card for instant savings, you may still be able to get SKYRIZI for as little as $5 per treatment by using the Rebate Program. Just call 1.866.SKYRIZI (1.866.759.7494).
Skyrizi Complete offers 3 ways to submit your SKYRIZI prescription for a rebate:
An Insurance Specialist to help navigate
your unique situation
Regardless of your health care coverage, your Insurance
Specialist will help you review all coverage options, understand
details, and identify potential ways you may be able to save.
Just call
1.866.SKYRIZI
(1.866.759.7494) to speak with your
Insurance Specialist.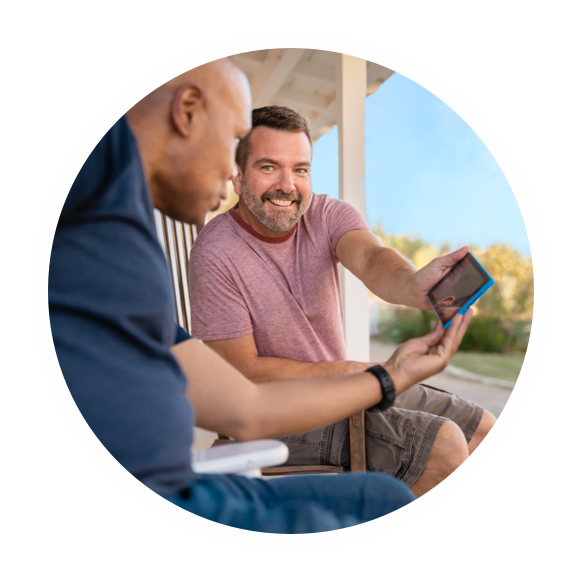 You may also be interested in:
Skyrizi Complete Savings Card Terms & Conditions
Terms and Conditions apply. This benefit covers SKYRIZI® (risankizumab-rzaa) alone or for SKYRIZI with product associated infusion (maximum savings limit of $1,000 per year applies) and eligible liver enzyme and bilirubin lab monitoring costs (maximum savings limit of $1,000 per year applies) where the full cost is not covered by a patient's insurance. Patient or healthcare provider is required to submit an Explanation of Benefits (EOB) following each infusion and/or laboratory test to the Co-Pay Program. Eligibility: Available to patients with commercial insurance coverage for SKYRIZI who meet eligibility criteria. Co-pay assistance program is not available to patients receiving reimbursement under any federal, state, or government-funded insurance programs (for example, Medicare [including Part D], Medicare Advantage, Medigap, Medicaid, TRICARE, Department of Defense, or Veterans Affairs programs) or where prohibited by law or by the patient's health insurance provider. If at any time a patient begins receiving drug coverage under any such federal, state, or government-funded healthcare program, patient will no longer be able to use the Skyrizi Complete Savings Card and patient must call Skyrizi Complete at 1.866.SKYRIZI to stop participation. Patients residing in or receiving treatment in certain states may not be eligible. Patients may not seek reimbursement for value received from the Skyrizi Complete program from any third-party payers. Offer subject to change or discontinuation without notice. Restrictions, including monthly maximums, may apply. Subject to all other terms and conditions, the maximum annual benefit that may be available solely for the patient's benefit under the copay assistance program is $14,000 per calendar year. The actual application and use of the benefit available under the copay assistance program may vary on a monthly, quarterly, and/or annual basis depending on each individual patient's plan of insurance and other prescription drug costs. With the exception of patients enrolled in a health plan subject to Maine insurance law, patients who are members of insurance plans that claim to reduce or eliminate their patients' out of pocket co-pay, coinsurance, or deductible obligations for certain prescription drugs based upon the availability of, or patient's enrollment in, manufacturer-sponsored co-pay assistance for such drugs (often termed "maximizer" programs) will have an annual maximum program benefit of up to $6,000.00 per calendar year. This assistance offer is not health insurance. By redeeming this card, you acknowledge that you are an eligible patient and that you understand and agree to comply with the terms and conditions of this offer. To learn about AbbVie's privacy practices and your privacy choices, visit https://privacy.abbvie
This Copay Assistance Card is issued by Florida Capital Bank pursuant to a license from Mastercard International. Serviced by Transcard LLC. The funds available through use of this Copay Assistance Card are not your property but are supplied exclusively by AbbVie Inc. No balance on this Copay Assistance Card is redeemable for cash or credit in the form of a refund, credit, change, or otherwise. This Copay Assistance Card may only be used for prescription medication at participating pharmacies and other approved locations, and for the specific purpose(s) expressly authorized by AbbVie Inc. Use of this Copay Assistance Card constitutes acceptance of the terms and conditions of the AbbVie Inc. Terms of Use, as amended from time to time. For a copy of the Terms of Use, please visit SKYRIZICDsavingscard.com. For customer service questions or to report your Card lost or stolen, call 888-857-0636.
Banking services provided by FLCBank, Member FDIC. The Skyrizi Complete Savings Mastercard is issued by FLCBank pursuant to a license Mastercard Inc. and may be used everywhere Mastercard cards are accepted.