ONLY 6 DOSES A YEAR
AFTER 3 STARTER DOSES
Make SKYRIZI part of your routine with at-home dosing every 8 weeks, after a total of 3 starter doses through a vein in the arm (intravenous infusion) and proper training from your healthcare professional.
600 mg intravenous infusion per dose
There are different kinds of places where you might get your infusions—like your doctor's office, a hospital, or an infusion center. Infusions can take up to 2 hours to receive.
Only 1 Maintenance Dose Every 8 Weeks
180 mg/1.2 mL or 360 mg/2.4 mL subcutaneous injection via OBI
You should receive your first treatment using the OBI under the supervision of a qualified health care professional so that you can be properly trained for using it on your own at home. They will help you choose an injection site and guide you on the proper injection technique.
Adults with Crohn's disease will receive their starter doses with SKYRIZI through a vein in the arm (intravenous infusion) in a healthcare facility by a healthcare provider. After completing the starter doses, patients will receive SKYRIZI as an injection under the skin (subcutaneous injection) using the prefilled cartridge with the On-Body Injector (OBI). Your doctor will decide what maintenance dose is right for you.
After Training, You Can Take Control of Your Treatment Experience With the SKYRIZI On-Body Injector (OBI)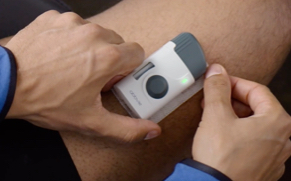 See the SKYRIZI "Instructions for Use" and for the full set of detailed instructions on the preparation and administration of SKYRIZI.
And, after your healthcare professional has shown you how to administer your at-home treatment with the SKYRIZI OBI, watch this video if you ever need a refresher.
Here are the 5 P's to help you remember how to use your SKYRIZI OBI:
1
PREPARE
Gather alcohol wipes, gauze pads or cotton balls, and sharps disposal container.
2
PICK
Pick a place on the thigh or abdomen to inject.
3
PEEL
Peel the 2 green pull tabs to reveal the adhesive without touching the needle.
4
PLACE
Place the OBI onto the skin. Ensure that the status light is visible.
5
PRESS
Press and release the gray start button to begin. A flashing green light will appear. When the injection is complete the green light goes solid.
An OBI, or On-Body Injector is a single-use injector with a prefilled cartridge. It's a NEW way to treat moderate to severe Crohn's that's been designed with you in mind.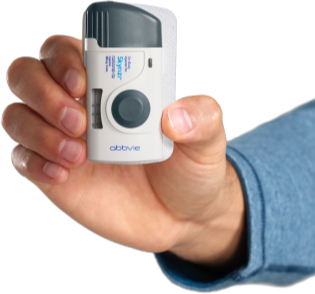 Designed With You In Mind
COMPACT SIZE

Small enough to fit in the palm of the hand.
HIDDEN NEEDLE
Discreet injection so you don't see the needle.
AUDIO AND VISUAL CUES

Notifies when full dose has been delivered.
HANDS-FREE

While adhered to the body and after activation. Moderate physical activities can be done such as walking, reaching, and bending.
DOSE DELIVERED IN 5 MINUTES

Completes the injection in set time after preparation and application are complete.
93%
of patients reported the OBI was "Easy To Use" after the first use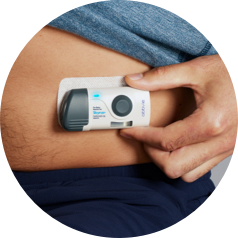 In a survey of the SKYRIZI On-Body Injector (OBI), patient-reported experience was collected using a Self-Injection Assessment Questionnaire (SIAQ). Patients were given the questionnaire after injection training by a healthcare provider (HCP) and following their first self-injection. 42 out of 45 patients reported the OBI was either "easy" or "very easy" to use.
HOW TO USE SKYRIZI: See the detailed "Instructions for Use" that comes with SKYRIZI for information on how to prepare and inject a dose of SKYRIZI, and how to properly throw away (dispose of) a used SKYRIZI prefilled cartridge with On-Body Injector. Before self-injecting with SKYRIZI prefilled cartridge with On-Body Injector, your healthcare provider should show you how to inject SKYRIZI.
Skyrizi Complete is dedicated to providing personalized support at every step of your treatment.
See How SKYRIZI Works
Watch a video to learn how SKYRIZI specifically targets the IL-23 protein to help reduce the excess inflammation that can contribute to Crohn's symptoms.
Consider the benefits and risks of taking SKYRIZI to make an informed treatment choice with your doctor.
Discover the science behind this treatment for Crohn's.
See how SKYRIZI can provide symptom relief, remission, and endoscopic improvement.