Understanding Crohn's Disease
Crohn's disease is a chronic (long-term) disease that causes inflammation in your gastrointestinal (GI) tract. It can affect any part of the GI tract from mouth to anus. Crohn's is a progressive disease, meaning it can get worse over time. It's important that your treatment goals include symptom relief, remission, and endoscopic improvement.
Crohn's belongs to a larger group of conditions known as inflammatory bowel disease, or IBD. According to the National Institutes of Health, it's estimated that more than half a million people live with Crohn's disease in the United States.
The key goals for Crohn's disease treatment are to help you achieve symptom relief, endoscopic improvement, and maintain remission.
Types of Treatment
There are different types of treatment options depending on your symptoms and level of severity. Conventional treatments can include the use of medication, changes in diet and nutrition, and, sometimes surgical procedures to repair or remove affected parts of your GI tract. Biologics work by targeting specific parts of the immune system that can contribute to the inflammation seen in Crohn's.
Be sure to talk to your doctor about the benefits and risks of all available treatments and what treatment option may be right for you.
Common treatments for Crohn's disease include:
A BIOLOGIC

FOR Crohn's
DISEASE
SKYRIZI is the first treatment for Crohn's that works differently by specifically targeting the interleukin-23 (IL-23) protein, which is one of the key proteins responsible for inflammation. By targeting IL-23, SKYRIZI helps reduce the excess inflammation that can contribute to Crohn's symptoms.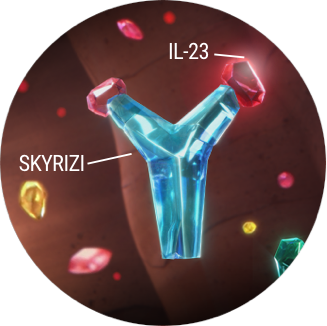 Looking for Updates,
Answers, and SKYRIZI Support?
Get more information and resources sent directly to you.
Be in the Know

With SKYRIZI Info
Learn more about how SKYRIZI specifically targets the IL-23 protein.
See how SKYRIZI can provide symptom relief, remission, and endoscopic improvement.